Michel FEUGERE
Tony GAUNT
John SKINNER
Du 09 janvier au 28 février 2009
John Skinner - Often when my friends talk amongst themselves about my paintings they talk about a stretch of the canal at Sete. In fact I don't paint the canal, I have painted forms of conversations with the water. The starting points can be very ordinary: reflections of different kinds, ripples or something I have seen in the water. These starting points are like conversations one might have with a friend on the terrace of a bar or on the pavement. We could talk of the weather, of our health, of our families. Starting with something simple like this I hope that the conversations with the paintings develop to include, perhaps, a moment of love or of death, reflections more profound about the mysteries of our lives. A moment of clarity or of obscurity, a repetition of rhythms and forms.
Tony Gaunt - Studied painting, ceramics and sculpture at Norwich College of Art, graduating in 1951.For a while he painted scenery at the Maddermarket Theatre in Norwich but soon found himself in advertising as an Art Director. First of all in Newcastle, then in Leeds (his home town) and then in London where he worked for several world renowned agencies. In 1964 he and his family moved to Brussels. As an Art Director, then Creative Director and later Managing Director, he worked mostly on International Accounts which eventually took him back to London in 1978 as European Co-ordinator. He, and his wife Erna, have lived and worked in London, Brussels, Amsterdam, Paris and Oslo, moving from country to country aboard their Dutch sailing barge. They have cruised extensively in the North Sea, Baltic and European waterways which brought them to Sète in 1994. For many years, traditional sailing vessels were the subject of his paintings which were exhibited extensively. After 30 years afloat, Erna and Tony bought an old house just 5kms across the Etang de Thau from Sète where he set up his studio and began painting non-marine subjects. His painting has evolved through changes in subject matter, becoming increasingly simple in form and colour. Abstraction has finally given him a new platform to express his joy with the colour and light around him.

Michel Feugère - Studied at Lyon and Aix. Maintains parallel careers in scientific research and art, enabling him to combine the disciplines of science with creative expression.In his abstracts, often with traces of liquid and filtered light, he creates a colourful universe in which matter and light compete. Sometimes serene, sometimes violent, these contrasts explore and re-explore the experiences of the artist. Even though the material of his canvases is the dominant element, they can receive and absorb the feelings and perceptions of the viewer. In his art, as in life, one can only observe traces of elements and beings.
Michel FEUGERE
Tony GAUNT
John SKINNER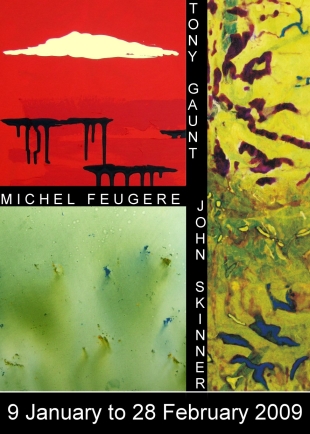 > Exposition précédente
> Prochaine exposition