Gennie de Lange
du 24 avril au 08 mai 2012
La Coursive de Dock Sud

Tous les ans, Gennie de Lange redevient sètoise; elle s'installe dans son petit appartement donnant sur le Canal Royal après avoir voyagé depuis l'autre côté du monde. Gennie la sètoise est fascinée par l'intensité lumineuse des couleurs et des reflets, par les sirènes et les marins, par les bateaux et les bars... Chaque année son attachement pour Sète s'intensifie avec le contraste de son autre vie en Nouvelle Zélande, blottie dans la sombre forêt pluviale de Pacifique, baignant dans l'explosion et la diversité des verts.

Depuis plus de quarante ans, Gennie développe des techniques uniques d'émaillage. Travaillant sur un biscuit brut de faïence, elle peint de nombreuses glaçures. L'aspect original est constitué de pastels mat. Après cuisson pendant trois jours, les tons et les couleurs des émaux obtenus sont complètement transformés et différents. Certaines glaçures sont transparentes, d'autres opaques, mais toutes sont délicates à utiliser car certaines réagissent d'une manière inappropriée, ou non souhaitée, au voisinage d'autres. Grâce à un nombre infini d'essais, Gennie a étendu son expérience pour manier ces glaçures à leur plus grand avantage et elle est capable d'anticiper en visualisant les résultats après cuisson. Ce genre d'œuvre artistique devient de plus en en plus rare car les supports en faïence, comme les glaçures et leur diversité, sont de plus en plus difficiles à obtenir.
Le résultat est tout à fait différent des aquarelles, gouaches ou huiles. Les effets d'émaillage sont riches, lumineux et complexes, quelquefois avec avec des effets de joyaux. Ils scintillent à la lumière vive et sont insensibles à l'humidité. Les tableaux peuvent même accrochés dehors ou dans une salle de bains! Le résultat final offre la forte sensation d'une œuvre peinte, même avec les techniques céramistes utilisées; les inégalité de surface entre les émaux créent l'équivalent en céramique de la gravure à pointe sèche. L'émaillage, et le sujet du tableau ajoutent à l'œuvre une sensation fascinante d'expressionnisme.
Every year Gennie de Lange travels from one side of the world to the other to visit Sète where she has a small apartment overlooking the Canal Royal. Like many artists Gennie is captivated by the luminous colours and the reflections, the sailors and the mermaids, the boats and the bars. This is a big contrast from her other life in a dark green New Zealand forest and each year her love affair with Sète intensifies.
For over 40 years Gennie has been developing a unique glazing technique. Working on unglazed terracotta she paints many layers of glazes. The colours are matt pastels before being fired in a kiln for three days. After firing, the tones and colours are completely transformed. Some glazes are transparent, some opaque, all are difficult to apply evenly and some react unfavourably when they are near each other. Gennie has discovered by endlessly experimenting how to handle them to their greatest advantage and is able to anticipate and visualise the outcome. This type of art is becoming increasingly rare because suitable earthenware tiles and glazes are becoming very difficult to obtain.
The result is quite different from painting in oils or watercolours. The glaze effects are rich, luminous and complex, sometimes with a jewel-like quality. They glow when placed in a bright light and are impervious to water. The paintings can even be hung outside the house and in the bathroom! There is a very painterly feel to the finished works despite the ceramic methods which have been used and the grooves separating the glazes create the ceramic equivalent of dry point engraving. The glazes and the subject matter give the paintings an intriguing expressionist feel.
Gennie de Lange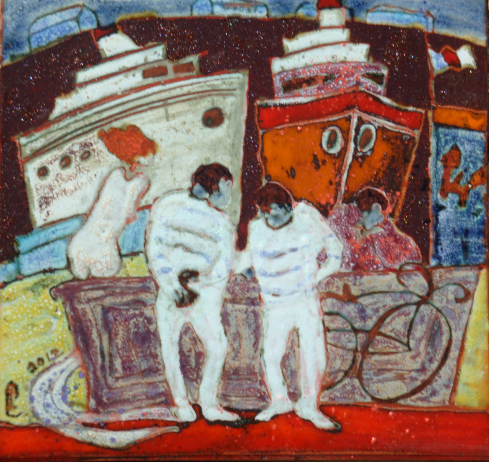 Studied at:
The Wellington Polytechnic, 1958-1960.
Hammersmith School of Art, London, 1963-64.
The Chelsea Pottery, London, 1965-67.
Middlesex School of Art, London, 1980.
One person exhibitions:
BNZ, Christchurch, 1970.
Canterbury Society of Arts, Christchurch, 1975.
Brooke Gifford Gallery, Christchurch, 1976, 1978, 1982, 1983, 1985, 1988, 2006, 2008, 2011.
New Vision Gallery, Auckland, 1977, 1979.
Werkgallery, Bulach, Switzerland, 1980.
Peter Dingley, Stratford-upon-Avon, England, 1981.
Janne Land Gallery, Wellington, 1982.
John Leech Gallery, Auckland, 1983, 1984, 1986, 1987, 1989, 1990, 1993, 1997, 2000, 2002.
Pots of Ponsonby, Auckland, 1992.
Dobson and Bashford Gallery, Christchurch, 1993, 1994, 1998, 2000, 2002.
Tinakori Gallery, Wellington, 1999, 2001.
Milford Gallery, Dunedin, 2001, 2004, 2009.
Milford Gallery, Queenstown, 2006.
Milford Gallery, Auckland, 2008.
Southcoast Gallery, Wellington, 2009, 2011.
Suter Gallery, Nelson, 2011.
Dock Sud Gallery, Sete, France, April 2012.
Invitational group shows:
New York World Fair, 1967.
New Zealand Potters Society, 1971, 1974-1978.
Dowse Gallery, Upper Hutt, 1976, Millennium Exhibition, 2000.
Sergeant Gallery, Wanganui, 1978.
Govett-Brewster Art Gallery, New Plymouth, 1979.
Craft N.Z. 1978.
Fletcher Brownbuilt, 1979, 1982.
Suter Art Gallery, Nelson, 1985, 1989.
Dobson Bashford Gallery Christchurch, 1996, 1999.
Millwood Gallery, Wellington, 2007.
Art in a Garden, Canterbury, 2007, 2008.
Collections:
Robert MacDougall Gallery, Christchurch.
Auckland Museum.
Waikato Art Gallery.
Ministry of Foreign Affairs.
Private Collection of the late Rodney Kennedy.
Private Collection of the late Patricia France.
Auckland Justice Department Law Courts.
Private Collection of the late Harriet Friedlander.
Private Collection of Harry Bashford.
Private Collection, Marshall Seifert.
Price Waterhouse Coopers.
New Zealand Insurance.
Commissions:
Westpac, Wellington.
North Canterbury Hospital Board.
Security House, Christchurch.
Book Illustrations:
French Leave by Richard Donald, Shoal Bay Press, 2002.
Travels without a Donkey by Richard Donald, Roger Steele Press, 2011.